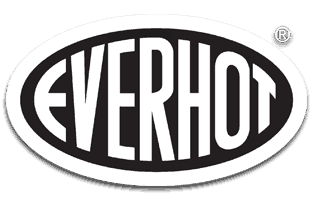 The Everhot Range
The Everhot Cooker combines traditional craftsmanship and quality with contemporary design and efficiency. This electric heat storage cooking range simply plugs in to a 13 amp socket. It comes in seven different sizes with a variety of models and colours to choose from.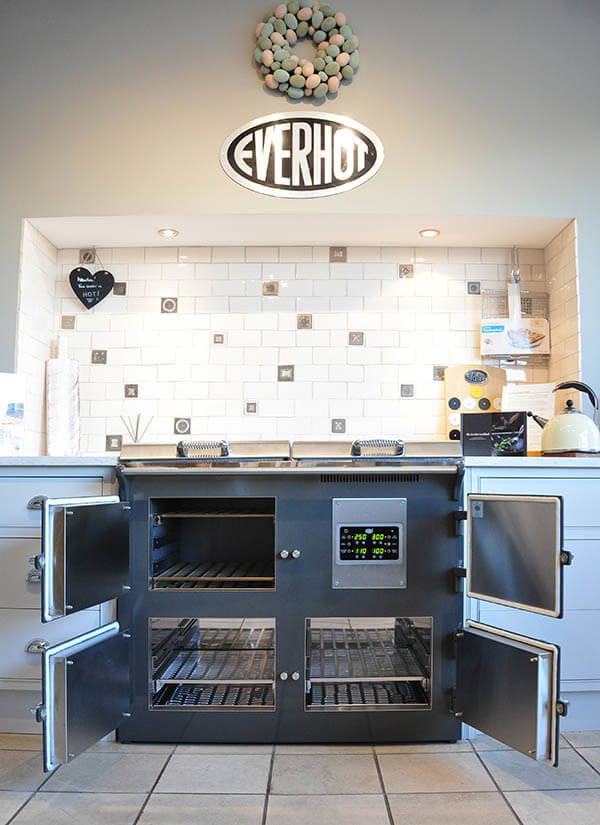 Everhot Cookers An Everhot cooker radiates a gentle warmth into the Kitchen whilst still offering you complete control of the Oven temperatures. It includes a wide commercial grill and solid boiling and simmering plates.
Various models provide more ovens and some have of induction zones for instant or supplementary cooking.
The Everhot is easy to install. It has no servicing requirements and is made in Britain in carbon neutral workshops.
We have four Everhot cookers in our showroom, one working model. We offer free cookery demonstrations on a regular basis. Call us to see when our next cookery Dem is taking place.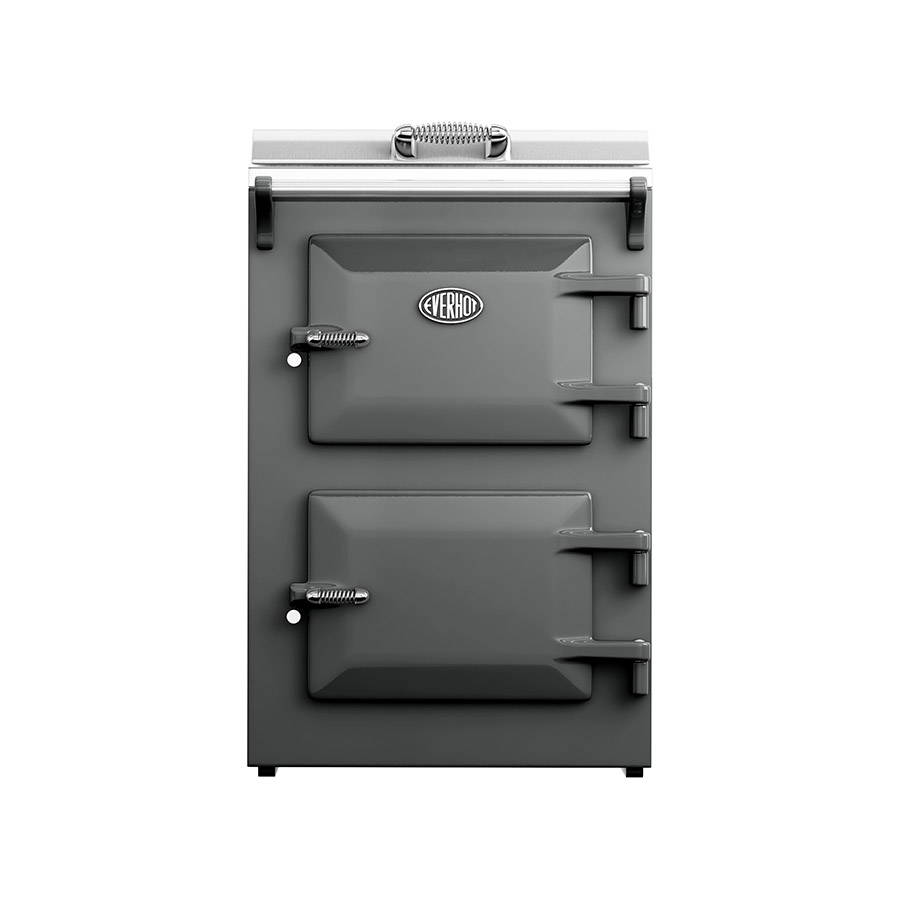 Everhot 60
The natural choice for smaller kitchens. Despite its compact size the Everhot 60 boasts two large ovens, cast iron boiling and simmering plates and an integral grill. 
With a wide choice of colours and only needing a 13 amp socket this cooker is a popular choice for those down sizing or where space is at a premium.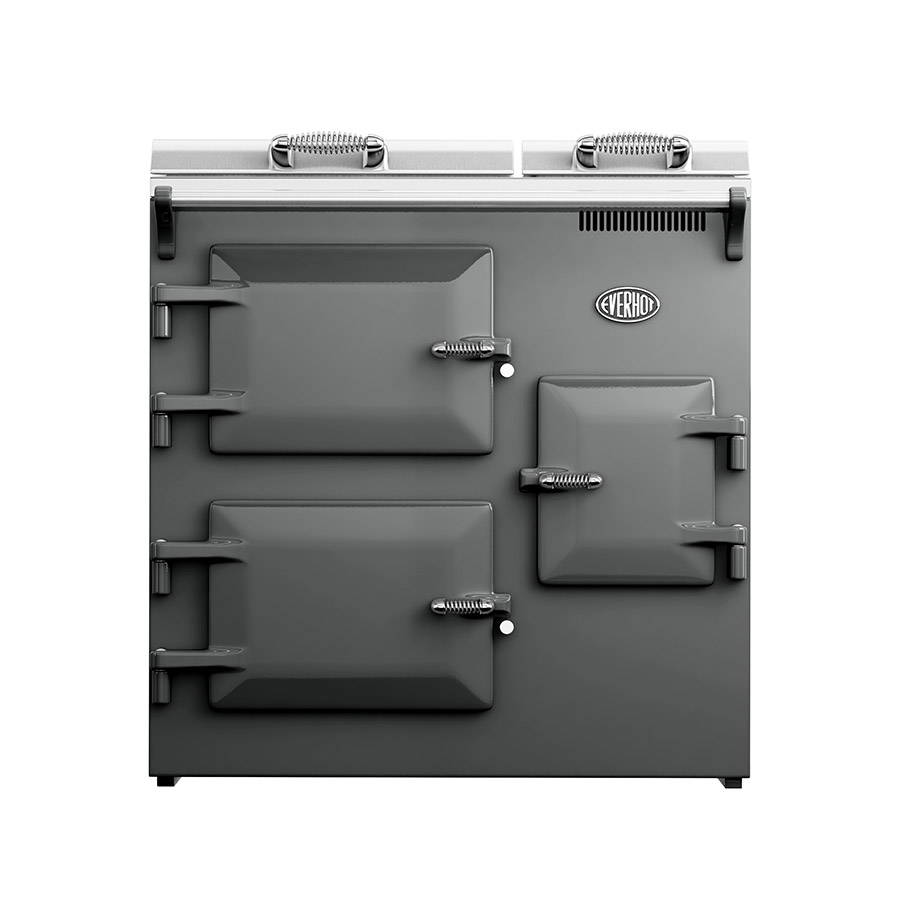 Everhot 90
The Everhot 90 is a size well suited to replace other traditional range cookers. With two large ovens and cast iron boiling and simmering plates and the integral grill, plus the option of an additional cast iron simmer plate or a two zone induction hob. It also has the control panel housed within the cooker front.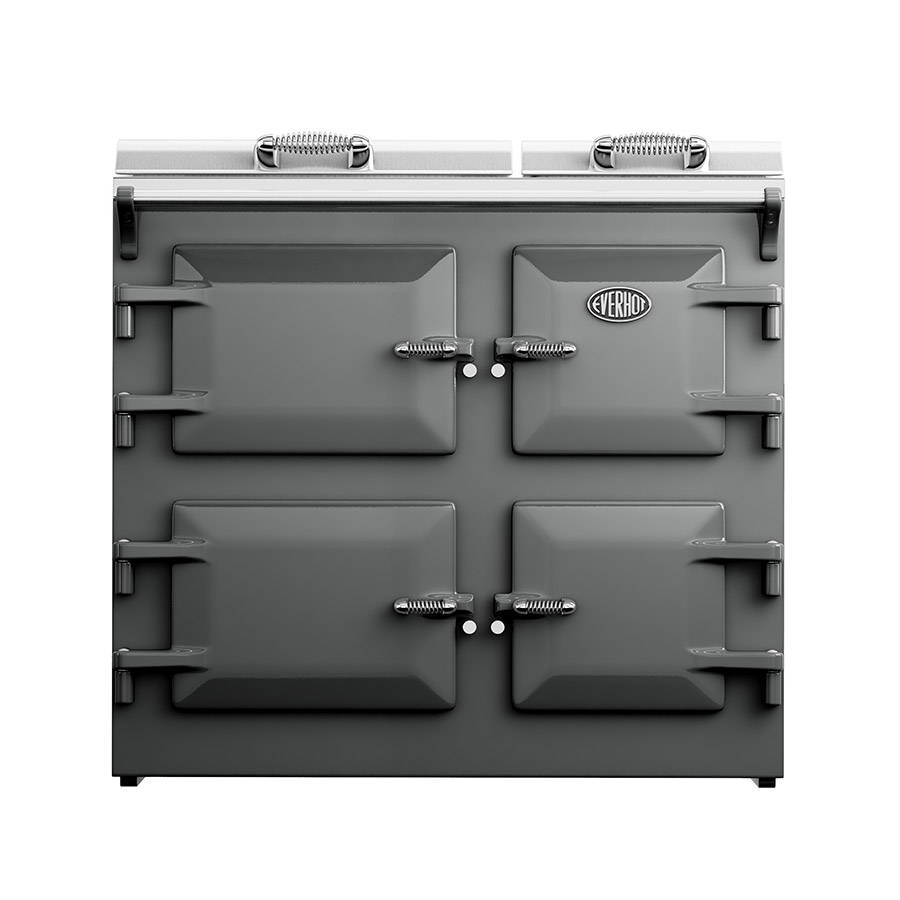 Everhot 100
An extra plate warming oven as well as the two large ovens is included in the Everhot 100 model, along with an integral grill. With a boiling and simmering plate you can then choose to have either an additional simmering plate or a two zone induction hob. The controls are housed in side the cooker.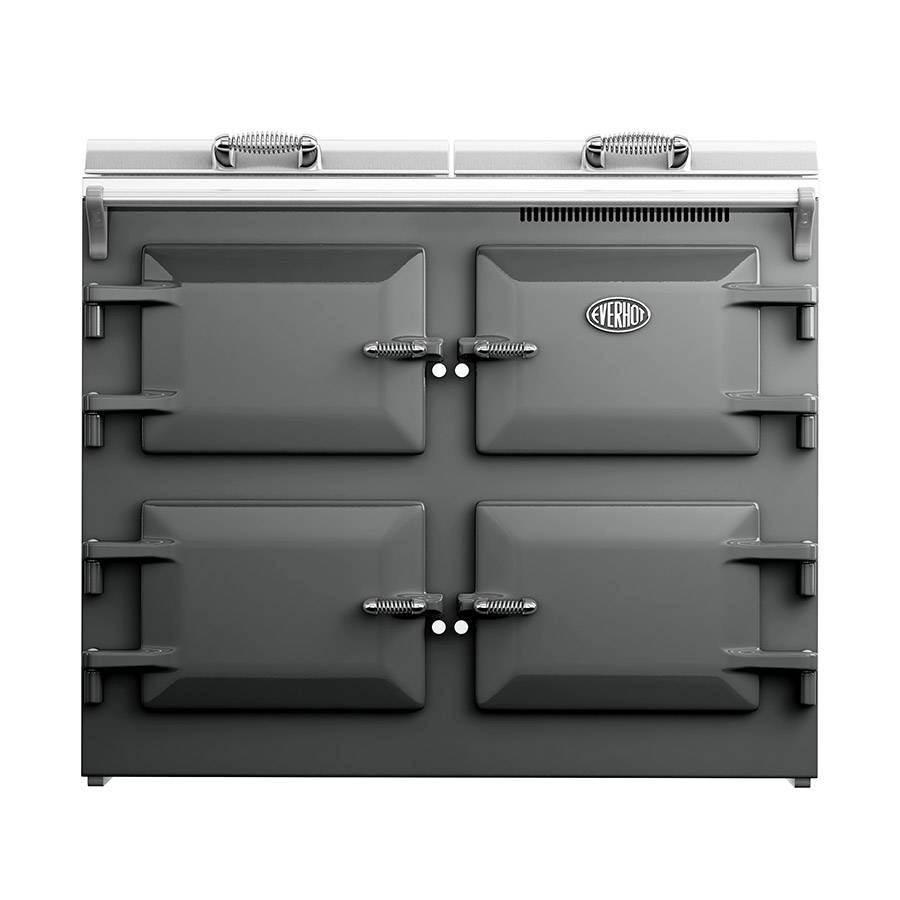 Everhot 110
Probably our most popular selling model, the 110 offers three large full size ovens, offering a roasting oven a baking oven and a simmering oven.  An integral grill and cast iron boiling and simmering plates. You can choose to have a two zone induction hob along side. Alternatively the cast iron boiling and simmer plates can be built under separate lids with individual controls for each one.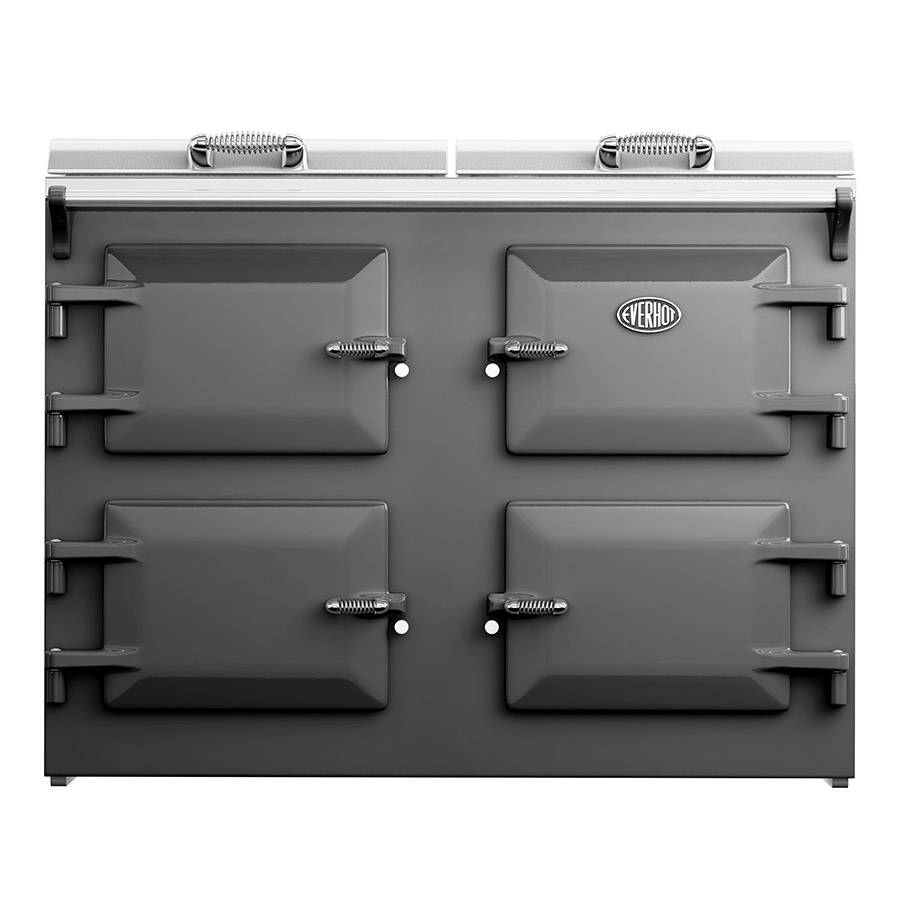 Everhot 120
The Everhot 120 provides an  exceptional choice of cooking options and is well suited for family cooking or a larger kitchen. Elegant and well balanced the 120i provides three ovens, integral grill, integral control panel and a three zone induction hob. The 120 + gives you the luxury of four large ovens, two integral grills and four cast iron hotplates. The control box is externally located, in an adjacent kitchen unit or on the work top. The 120+ is ideal for those requiring more heat into their kitchen.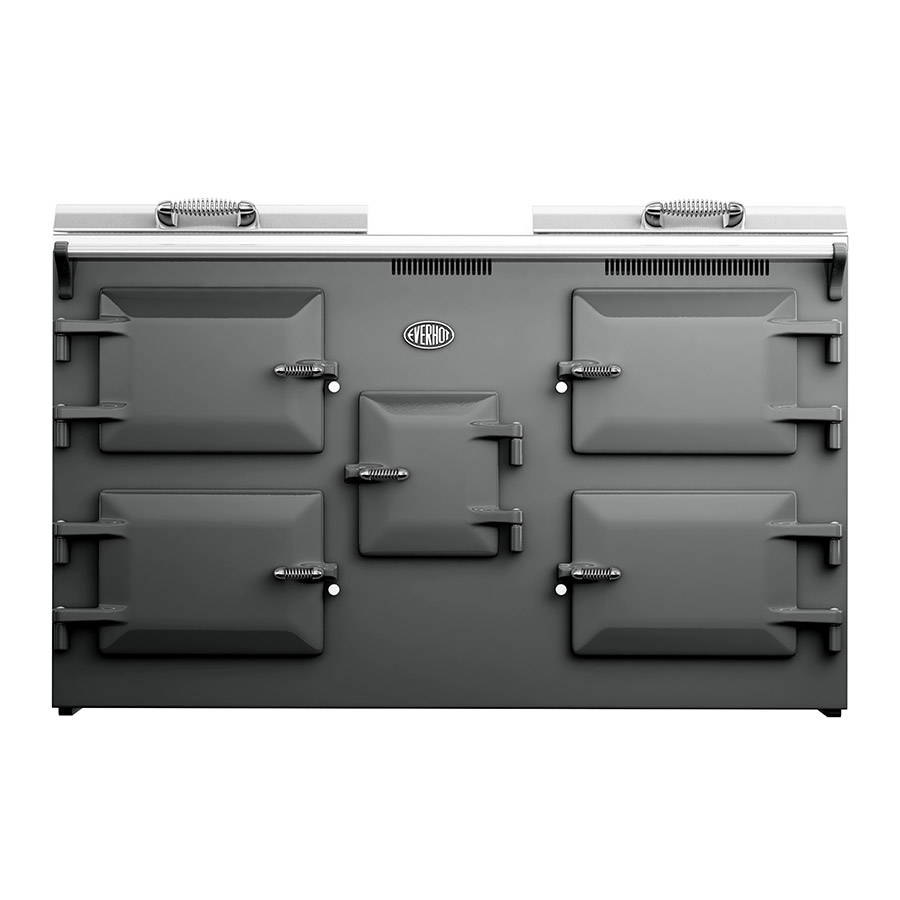 Everhot 150
The Everhot 150 is ideal for the larger kitchen or bigger family. The 150i has a roasting, baking and simmering oven along with a plate warming oven, an integral grill, integral control panel and a three zone induction hob. The 150 + has four ovens, two capable of being roasting ovens and with integral grills the controls are integral and two cast iron boiling and  simmering plates.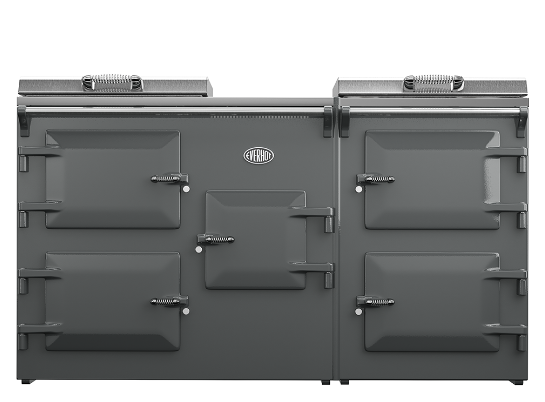 Everhot 160
Able to contend with big families, big appetites and even bigger entertaining, the Everhot 160i features four full ovens with two top grills with an easy-to-adjust control panel neatly hidden between a middle fifth door. Sitting above the ovens, you will find the traditional double simmer and hot plates either side of a state-of -the-art, two-zone induction hob. Each of the ovens, hot plates and induction zones are temperature adjustable. The Everhot 160i is an opulent, attention grabbing, centrepiece that brings warmth and style to your kitchen.
Everhot Electric Stove
The evolution of a classic design
For over 40 years Everhot have led the way in innovative, energy efficient heat storage cooker design. Hand built in the heart of the Cotswolds the Everhot electric stove integrates our heat storage expertise into an elegant and efficient stove featuring our unique single oven design and cast iron door. Unlike a traditional woodburning or solid fuel stove the Everhot electric stove does not require a flue and simply plugs into a standard 13amp socket. Easy installation and classic design make the Everhot electric stove perfect for any space needing additional heat; and is a stunning focal point for living rooms, spare rooms, home offices, conservatories, summer houses, annexes or even somewhere off the beaten track such as a shepherds hut or narrowboat.
Background Heat
The EVERHOT is a heat storage range cooker that will provide gentle heat into your kitchen.
Weight saving
Built to last a lifetime, the EVERHOT is incredibly solid, but its weight means that the kitchen floor should not need reinforcing, and if you move, you can take it with you.
Flue free
Because it runs on electricity, the EVERHOT needs no flue. Again, this makes installation easy, and also reduces energy consumption.
Energy saving
With its unique, energy saving design, the EVERHOT has extremely low electricity requirements, so you can simply plug it into a 13amp socket just like an electric kettle. Many owners have praised its 'miserly consumption'.
Total control
Each oven and heating surface can be independently adjusted to the temperature you require. If a particular cooking area is not needed for long periods, you can switch it off or turn it down without affecting the other areas. And on hot summer days, you don't have to roast in the kitchen.
Grill
You'll have a full-width radiant grill, which an also be used to rapidly boost oven temperature.
Maintenance-free
With a little care and affection, the EVERHOT will perform trouble-free year after year, with no annual servicing requirement.
Environmentally friendly
Each and every EVERHOT is manufactured in Gloucestershire, using 95% UK components. Using sustainable water energy from the 13th Century water mill was the catalyst for the initial invention of the EVERHOT cooker. Today, the state of the art turbine produces up to 25KW of sustainable energy. Additionally, due to the EVERHOT being so energy efficient in it's running consumption it maintains its status as being a more environmentally friendly choice of cooker. You should consider your EVERHOT to be a lifetime purchase and indeed it will give many decades of use, but if you or a succeeding owner decide that you want to dispose of it we can remove it from your property and recycle it.